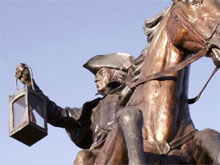 There was a time when Christianity and patriotism were considered one in the same. Daniel Webster was right when he said, "Whatever makes men good Christians makes them good citizens." The Oxford English dictionary defines "patriot" as a person who vigorously supports their country and is prepared to defend it. Two striking Christian concepts present themselves in the entomology of the word. One is from the Latin
patriota
, "fellow countryman"; and the other from the Greek
patris
or "fatherland." Both ideas, of being a fellow of others, and the derivation of identity from fatherhood, are foundational to the Christian faith. The identity of every person begins in relationship with the Father of Jesus Christ. In knowing the Father we come into our purpose for living. Paul wrote that we were all dead according to the course of the world, living according to our own desires and under Satan's power. Then Jesus came to make us alive as fellow citizens, members of God's household and living stones being constructed together into a habitation for God. Jesus saw Himself as one upon whom the lives, well-being and future of others were dependent. As
the Son of the Father
, Jesus did not live unto Himself. He lived for the Father and died for others. In Christ, we see that a man who pleases God does not conduct his life from the "what about ME" point of view.
Jesus was always asking, "What is my Father thinking, planning, doing, seeing and saying?" That determined what Jesus would think, plan, do, see, and say in order that others around Him might know God.
As you know Him, the qualities of Christ's nature become reflected through you. Those qualities include a servant spirit, a positive attitude of faith, a lifestyle that is no longer just about "being yourself." David asked, "Lord who may dwell in your sanctuary? Who may live on your holy hill?" The Holy Spirit sings back the answer: one whose walk is blameless, who does what is right, who speaks the truth from his heart, who does not speak evil of others, who doesn't harm his neighbors or denigrate a fellow man, who has no respect for vile persons, who respects persons who fear God, who keeps his promises even when it costs him, who lends without charging and is not able to be bribed (see Psalm 15). That is a pretty tall order but it fits the bill of a Christian and patriot. Such a person is unshakeable. Such a person is qualified to lead and influence others. Such a person will be invited to sit beside the Lord in fellowship reigning and ruling with Him!
Those selfless qualities are the building blocks of a peaceful community. Conversely, the things that undermine society are all rooted in selfishness. They include: prejudice which makes one unable to see any good in someone that represents another point of view. Narrow minded interest whereby a person becomes absorbed in personal benefit regardless of the affect it has on the lives of others. Becoming engaged in wishful thinking as opposed to exercising the faith which spurs one into useful action is unpatriotic. Holding or supporting perverse values or false philosophies that exalt the individual and worship gods other than Christ and His values.
We can only fulfill our destiny as we fulfill God's role for us in the nation where He has planted us.
Community derives its identity from the Father in heaven through those who fellowship with Him through faith. From one man God made every nation of men that they should inhabit the whole earth and He determined the time set for them in the exact places where they should live (see Acts 17:22-27). Are you willing to believe that God is that involved in the present circumstance of your life? Your national identity, like your family identity is no accident. Nor is it your own individual choice. The hand of God is intimately involved. We can only fulfill our destiny as we fulfill God's role for us in the nation where He has planted us.
Christians' lives and citizenship, by birth or by naturalization, are no accident. In Christ, an individual is not complete as long as he or she is detached from relationship with family, church, community, and nation in which God has placed him. Psalm 68:6 says, "God sets the solitary in a homeland but the rebellious dwell in a dry land." Christians must see themselves as responsible for contribution to righteousness in the nation where God has placed us. We can never really fulfill God's plan for us as individuals until we find and take our right place in the nation in which God has ordained that we should live. As we take our place and do His will men around us will seek and find the Lord (see Acts 17:27)!
The perils that are now threatening the world begin with individual corruption and selfishness. Evil, violence, blasphemy, pride, sorcery, anarchy, and heresy all begin in self-centeredness (see 2 Timothy 3:1-13). Men in every nation are desperately seeking peace and security. The answer lies in Christian patriots arising in every nation. We must each look beyond ourselves. A patriot is salt to bind, preserve and disinfect according to biblical righteousness in the context of his or her culture. A patriot is light in the face of increasing darkness of sin and national chaos. A patriot is an intercessor, standing in the gap as Jesus, interceding for salvation to come to his or her people. A patriot is a strongpoint for breakthrough of spiritual blessing and a lasting heritage to be found for God in his or her nation. As such we, and our nation, become an effective part of the eternal glory that will parade in triumph into the City of God to fellowship and reign with Christ forever.
"Ask not what your country can do for you but ask what you can do for your country."
The words of an American apply to Christian patriots in every nation: "Ask not what your country can do for you but ask what you can do for your country."
There are five things every Christian can do as a patriot in their nation:
1. Pray for righteous persons to be placed in leadership at all levels of government (1 Timothy 2:1-4).

2. Pray that your nation and your community will be a friend to Israel and to the Jewish people. God has sworn to uphold His promise to Abraham as an eternal pact: "I shall bless those who bless you and curse those who curse you" (Genesis 12:3). Nations who plot destruction of Israel or the Jewish people bring themselves under a curse.

3. Share Christ at every opportunity the Holy Spirit gives for God desires "all men to be saved and to come to the knowledge of the truth."

4. Be thankful! In times of difficulty and oppression sometimes it is difficult to open your mouth in praise. Thanksgiving is the gateway to God's Presence. When a Christian praises God his heart is flooded with relief and grace. When a Christian offers praise God is enthroned, the atmosphere begins to change, and God's salvation will appear. "Whoever offers praise glorifies Me; and to him who orders his conduct aright I will show the salvation of God" (Psalm 50:23).

5. Finally, vote according to God's values. As Americans, we have a unique opportunity and responsibility to shape the future of our nation with our vote. Our nation stands in the valley of decision. More than ever it is important that Christians stand in the gap spiritually and practically with their vote for candidates on the national, state, and local levels who are in harmony with the Judeo-Christian foundations found in Scripture. The future prosperity, blessing, and destiny of our nation depend on it.
Christians are patriots as they understand, seek and do those things that bring the blessing of God upon their community and nation. Voting for men and women who will legislate laws that are in agreement with God's values regarding life, marriage, finances, and liberty is part of our spiritual responsibility. As we come to the polls on Nov. 6, we must ask ourselves "What does God desire for my nation?" No one who knows the Lord or the Scriptures can say "God is not interested in the destiny of my nation." Nor can a believer say "God desires my nation to come to evil." America was founded by Christians to be a Christian nation. Like the remnant that returned to build Jerusalem with Ezra and Nehemiah, we must carry a trowel in one hand to complete the work of God and a spear in the other to ward off the powers of darkness opposing Him. Let us take our place as watchmen in this critical hour, voting for the continued blessing of our great nation, and binding back the enemy as we cry day and night unto God to establish justice and righteousness in our land.
Lord, give us leaders, such that it would be to Your glory to give us
the victory through them!